ResultsLab Earns B Corp Certification
Leading Impact Management consulting practice meets high standards for social and environmental performance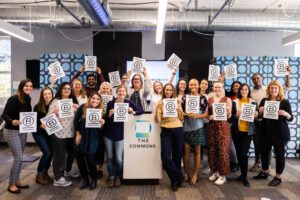 January 17, 2023 – ResultsLab joins over 6,000 certified B Corps™ from 150 different industries and 89 countries, with one unifying goal: to redefine success in business. Certified B Corporations™ (also referred to as B Corps™) are businesses that meet high standards of verified social and environmental performance, transparency and accountability to balance profit and purpose.
ResultsLab is a social enterprise that propels organizations, communities, and networks to the next level of impact through quality design and effective use of data. Organizations that partner with ResultsLab are more confident and equipped to engage with data. They will achieve team alignment and a clearer understanding of program goals, desired outcomes and how to measure and use data to deepen impact. Together, we develop a culture of data that is sustainable – driving growth and transformative change.
"We utilize business as a force for good," said ResultsLab's Founder and CEO, Cindy Eby. "This certification demonstrates that we are meeting a core need of our clients and helping them create positive change in their communities. We strive to bypass the boundaries and through a balanced business approach focused on results and impact, we believe we can create a world where we all thrive."
A B Corp™ Certification reflects ResultsLab's mission to pursue impact and provides a platform to drive accountability for impact goals. "Becoming a B Corp™ strengthens our commitment to how we operate as a business and provide the best service to our clients and our team. While this certification is a proud moment, it is just the beginning of a long journey to maintain this balance and continuously improve as an organization. It's about positive change – not perfection," said Cindy.
The B Corp™ certification addresses the entirety of a business' operations and covers five key impact areas of Governance, Workers, Community, Environment and Customers. The certification process is rigorous, with applicants required to reach a benchmark score of over 80 while providing evidence of socially and environmentally responsible practices. "ResultsLab completed the B Impact Assessment with a verified score of 108, and we're driven to continuously increase that score," said Cindy
ResultsLab is excited to lean into the B Corp™ community, please contact Jaclyn Sablosky at [email protected] to explore ways to partner, connect and collaborate. Now more than ever, we want to work with and for organizations that reflect our values. If you are passionate about using data to drive greater impact, ResultsLab may be a place for you to thrive, join our team. 
ABOUT RESULTSLAB
ResultsLab is a social enterprise, B Corp™, that propels organizations, communities, and networks to the next level of impact through quality design and effective use of data. We are reinventing impact management by providing capacity building for data informed decision-making to organizations and networks that exist to drive change for our communities.
ABOUT B LAB
B Lab is a non-profit that serves a global movement of people using business as a force for good.  B Lab's initiatives include B Corp™ Certification, administration of the B Impact Management programs and software, and advocacy for governance structures like the benefit corporation. The B Corp™ community works toward reduced inequality, lower levels of poverty, a healthier environment, stronger communities, and the creation of more high-quality jobs with dignity and purpose. By harnessing the power of business, B Corps™ use profits and growth as a means to a greater end: a positive impact for their employees, communities and the environment.